NEWS&TOPICS
2018.04.06

Bacto Power is amazing(Bacto Powerは凄い)-3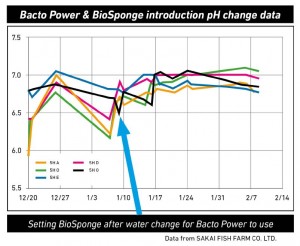 The figure above is a phenomenon that occurred simultaneously in five ponds.
The pH stabilized in all the ponds.
Awesome Bacto Power!
Bacto Power is a unique bacterial preparation.
The unique characteristic of this bacterium breaks up more pollutants compared to other bacteria.
Regular bacterial products break down only ammonia (NH 3) and nitrite (NO 2).
However, facultative anaerobic bacteria formulated in Bacto Power decomposes nitrate and converts it into nitrogen gas and releases it into the air.
Therefore, pH is very stable as nitrate decreases.
Therefore, pH is very stable as nitrate decreases.
Facultative anaerobic bacteria play an active part in the presence of oxygen.
That is, the growth of Nishikigoi is improved and the mucus which color rises also comes out.
Immunity will also rise
上の図は5つの池で同時に発生した現象です。
pHは全ての池で安定しました。
素晴らしいバクトパワー!
Bacto Powerはユニークな細菌製剤です。
この細菌のユニークな特徴は、他の細菌と比較してより多くの汚染物質を分解します。
通常のバクテリア製品は、アンモニア(NH 3)および亜硝酸塩(NO 2)のみを分解します。
しかしBacto Powerに配合されている通性嫌気性バクテリアは硝酸塩を分解して窒素ガスに変換して空気中に放出します。
従って硝酸塩が減少するのでpHが非常に安定します。
通性嫌気性バクテリアは酸素があるところで活躍します。
即ち錦鯉の成長が良くなり色も上がり良い粘液も出てきます。
免疫力も上昇します